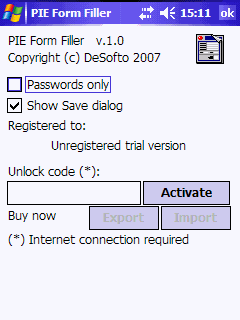 Pocket IE Form Filler 1.3 Released!
Password Manager with Autocomplete in Windows Mobile Internet Explorer that completely automates password entering and web form filling!
Manage your passwords and fill login web forms automatically.
Download to PC
Download to PPC
Buy
While surfing the web, we often come across web sites that require user authorization. In most cases, this process is limited to entering the username and password. Apparently, nobody forbids to use the same password for all sites, but this is not completely safe. The thing is, when an intruder gains access (hacks) one of the sites, he will automatically get access to other sites you are registered on. This is especially important for access to corporate sites or web mail services. Therefore, it means that you have to enter a different password for each site you enter at registration. Apparently, it's unreal to memorize all of them and making a mistake is such an easy thing to do. There are many password managers on the market today, but they are all designed in a way that implies manual copying of passwords from forms into the repository (the application) and back. Such applications often do not even support basic Copy-Paste operations.
Pocket Internet Explorer Password Manager with Autocomplete works in a totally different way. It is essentially an add-on for a browser (Windows Mobile Internet Explorer) that automatically stores the information entered into web forms and then uses it to autofill them out.
This way you can be always sure that your passwords are safe and will not be lost.