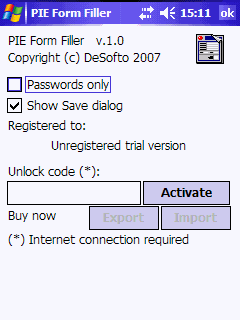 Pocket IE Form Filler 1.3 Released!
An elegant and affordable way to enable autocomplete form in pocket Internet Explorer!
Auto fill web forms in pocket pc Internet Explorer!
Download to PC
Download to PPC
Buy
If you have ever used a PDA device and browsed the Internet on it, you should to know that the windows mobile Internet Explorer is quite different from its desktop counterpart. Although being minor and not important in most cases, these differences have important implications to usability of the pocket browser - especially for those of us who actively log into their web-based corporate software register in a variety of web services using their handheld. The biggest problem of the standard PPC IE is certainly its inability to automatically memorize and fill out the information entered into web forms. If you want to enhance the possibilities of your standard browser and solve this problem once and for all, check out Pocket IE Form Filler immediately!
Pocket IE Form Filler was created by people who were equally concerned by this problem and wanted to fill this unfortunate gap in the functionality of the mobile version of the popular browser. This is a password manager that memorizes info from web forms and fills them out automatically the next time you access the same page, thus saving you plenty of time during active Internet and Intranet browsing. Unlike the overwhelming majority of similar solutions, it offers more than just secure storage for your logins and passwords. No irritating copy-pasting from text files, no need to memorize dozens of logins and passwords for all of your favorite sites - just do what you need to do. Obviously, you can use a single login and password for all of your sites, but this is a dangerous path that may jeopardize your security.
In brief, if you want to forget about having to copy and paste your logins and passwords every time you use the same services (not to mention the filling of frequently requested personal data), make sure you don't miss the chance to take a look to Pocket IE Form Filler. It will make browsing from your handheld a much more rewarding experience!